Akal conducted its annual Diwali celebration on the evening of 21st October 2022. This felicitous event was witnessed by all AKAL employees and staff. With good food and amazing friends, it was yet another memorable occasion.
Marvelling at the exquisitely designed rangolis on each floor and the flickering diyas adorning our office floors, stairs and window panes did wonders to feed our festive souls. The care and attention to detail that the staff and employees put into making the rooms come to life was commendable, to say the least. It's at times like these that we are reminded of how much of a well-oiled machine our teamwork continues to be, and for that, we consider ourselves quite blessed.
It's not every day that we greet our coworkers in our finest ethnic wear, but on this particular day, the colourful traditional attire we all donned seemed to make our "Hellos" and "Good mornings" much sweeter and more sincere. In almost every corner of the second and fifth floors, you could see people posing for photos as if they were afraid of not capturing every moment.
The programme commenced at  5 o'clock in the evening with a spiritually enlightening Ganesh puja and Laxmi pooja. This was followed by Chaupai Sahib, Ardas and distribution of parshad and gift boxes containing some much-needed office essentials for all. All employees enthusiastically participated in the celebration. Once the prayers were concluded, employees from different teams and departments mingled while munching down their meals. While many stayed back to relish this once-in-a-year celebration, we bade adieu to those who wanted to share their meals with their loved ones at home.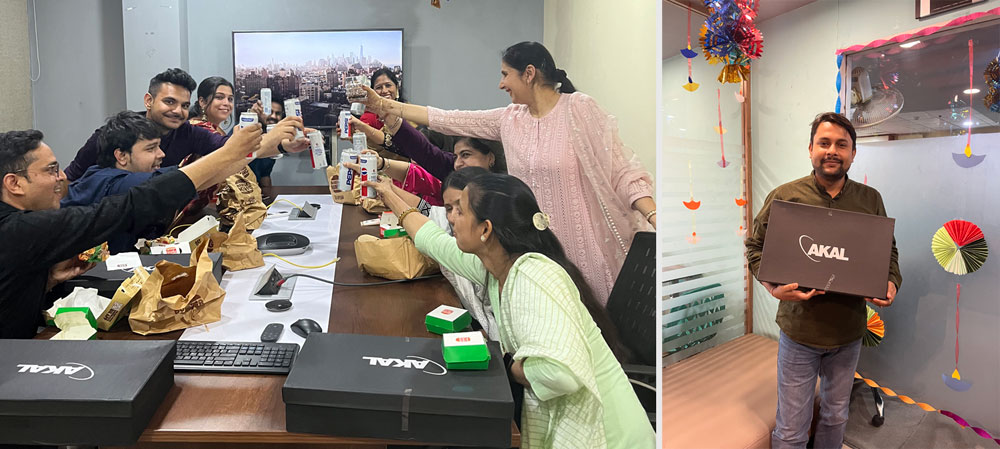 As the hours passed and the sunset welcomed the night sky, the diyas and fairy lights illuminated the rooms even more vividly, bringing with them a feeling of pure bliss and a sense of accomplishment. It truly was a magical day.
We, at AKAL, wish you and your family a very happy Diwali and hope that this festival brings you nothing but happiness, love and prosperity.